Finding the Silver Linings in Learning Days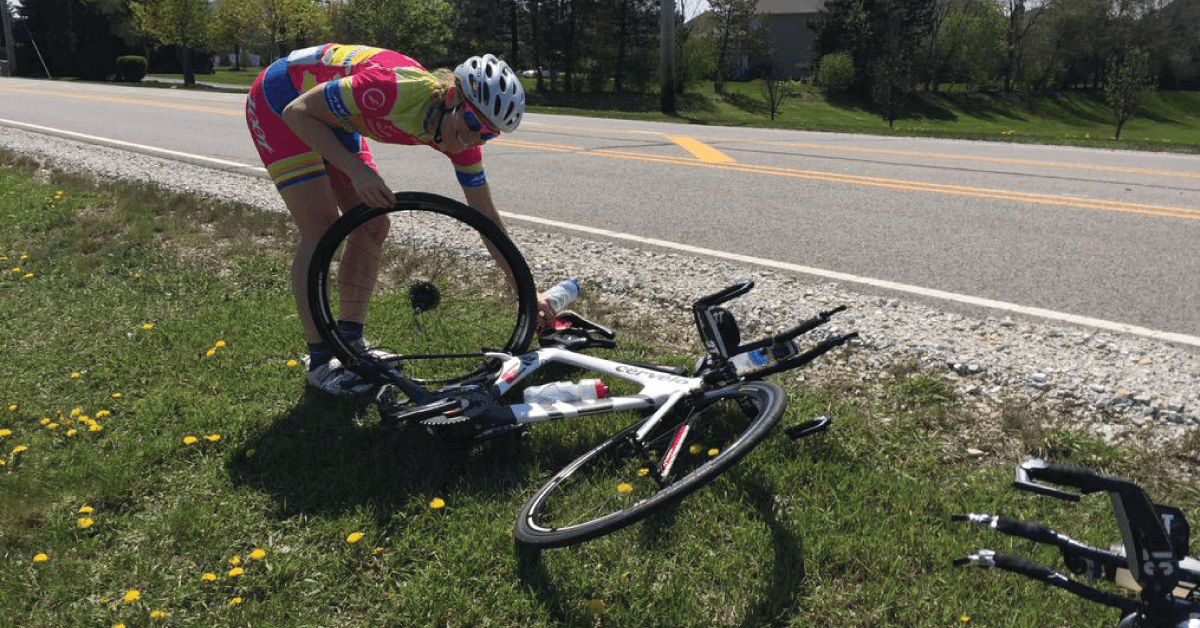 Amanda Wendorff with a flat tire on the side of the road
Photo provided by Amanda Wendorff
Amanda Wendorff with a flat tire on the side of the road
Photo provided by Amanda Wendorff
Hi, my name is Amanda. And a little secret – almost seven years ago, I DNF'd my first professional triathlon. 
It's almost comical, in hindsight, how nervous I'd been for that first start, how quickly everything unraveled, and how embarrassed I'd been while retreating with my tail between my legs. The first flat tire came within 5 minutes of starting the bike. The second flat tire happened about 30 minutes later. Then, 45 minutes after that, flat #3. I was on a quiet part of the course, with no remaining tools. I was done. I shed some tears, accepted my bad luck DNF, and then had a seat on the side of the road in the Mexican sun as I waited for a ride to take me back to transition. Instead, after I'd lost about an hour of time in total, I was approached by a race moto driven by an extremely enthusiastic bike mechanic who insisted on fixing the flat for me. "Señor, no es necesario, save your tools," I kept pleading in some messy mix of Spanish, Spanglish, and English. "¡Mi.. uh… race-o… es completo!" But he wouldn't hear of it, swiftly and expertly fixed my wheel, and then sent me on my way with a cheerful "¡si, se puede!"
More than a little grumpy, I carried on and completed the bike, overheated and dehydrated from my time sitting in the sun on the side of the road, under-fueled, and mentally fried. I wish I could say that I pulled myself together and finished strong, but when the heat really started to get to me on the run, I was out of fight, and that was the day for me. "No, no puedo."
As I was having a nice, extended pity party for myself, I ran into a more experienced pro. When I explained what had happened, she was sympathetic, but also seemed to think this was far less of a tragedy than I did. "These things happen," she said. "Every race is either a great race, or a learning race." 
Those words stuck with me, and helped me to reframe that disastrous outing pretty quickly. The outcome was not at all what I wanted, but from it, I learned so many lessons that I've used over and over since, as an athlete and a coach. My failure that day set me up for many better future days. 
This blog's not about me, though. Or at least it's not supposed to be. My broader point? The season is starting in earnest for many triathletes, cyclists, and runners. Most of us are coming out of off-season, aiming for bigger things at the end of the year, and are undoubtedly a bit rusty. There will be a lot of great races, but, I can guarantee, lots of learning races that provide valuable opportunities to improve if we can properly identify and retain the lessons from them. And really, the great races provide plenty of their own lessons as well.  
So what are the best ways to process and learn from races, good or bad, so that we can keep improving going forward? I have some tips. 
Tip #1: Write it down.
As much as we are all convinced during the most dramatic moments of our lives that we'll never forget the way we're feeling right now, the reality is that a day, week, month later, that thing that was so all-encompassing will be a distant memory and our perspectives will shape how we remember it.  For these reasons, I'm a huge fan of using the days (yes, days, plural) after a race to put down a written record of your race that will let you make some sense of the day  and that you can refer to down the road. 
BUT – and this is important – recognize that the audience that you're writing for affects your words. A thoughtful Instagram post is great for keeping your fans updated, and lots of people these days are using Instagram as a bit of a mini-journal. But, no matter how vulnerable or authentic you're trying to make your posts, remember that you're still writing for a large audience and, even if not consciously, trying to portray yourself in a likable way or limit your story to the most externally interesting points. And you're doing that with limited characters. The little lessons might get lost in that forum. Same with YouTube vlogs.
For this reason, I'm a big fan of processing your race experience through a couple different types of writing. Back in the day when it was trendy, I used to blog a lot (side note, let's bring back the blogs!!). Within a week of the race, while it was still fresh in my mind, I'd write a race report blog in a narrative form. Most of the time, sitting down and reliving the day while writing helped me to seek out and identify the lessons from the experience. Perhaps more importantly, the blogs provided a written record that I could refer to down the line when preparing for future races. I still look back to blogs from my early tri days to try to remind myself of previous experiences and learnings.
But just like Instagram posts, blogs can be a little self-censoring, so I always had one more written record – either a personal journal or an emailed report to my coach where I included the stuff that was a little more personal, or uninteresting, than I wanted to blog about. Those would include details about things like my race execution (nutrition, pacing, equipment), as well as those things the entire world didn't need to know (excess trips to the toilets, etc.)  As a coach, I go so far as to put "Race Report" as an assignment in my athletes' schedules, often with a list of topics I want to make sure they hit. Grammar, spelling, length – none of those things matter. There's no grading. I just want honesty and introspection.  These race reports are incredibly helpful for me as a coach, and often a detail that an athlete might not even recognize as particularly important may help us to identify an issue. And as an athlete, I often go back to my post-race email exchanges to refresh my memory of all the valuable things I learned in the past.
Tip #2: Give it time.
No matter how your race went, give yourself some time to settle before going deep into post-race analysis or making drastic decisions.  Emotions are high after races, and judgments are snap. How many times have we heard a prominent athlete say right after a race that they're declaring their season finished, only to then change their mind and have a great race a month later? Or raise your hand if you've ever found yourself on the internet, desperately searching for a redemption race as soon as possible (guilty! After a poor race, I once entered and booked a flight to an international "redemption" race the next weekend before I'd even gotten back to my hotel. Guesses on how that one went? Yeah, not so good).
Whether your race went amazingly well or was horrifically disastrous, give it a little time before thinking too deeply.  Have a beer, get some sleep, spend time with loved ones, and let the adrenaline and emotions settle. Then, think through your race with a calmer head and a little bit of distance.  
And you social media influencers, remember – unless someone is paying you to do so, you're under no obligation whatsoever to get onto social media to update your followers on how your day went, until and unless you feel ready! I've heard some of my own athletes lamenting to me after bad races, afraid and apprehensive about how they're going to explain their poor results to the world.  Take that weight off your shoulders – your inner circle and your true supporters know how to get a hold of you if they're worried, and more importantly, they're going to know the right things to say. Post if you want, but don't feel obliged. 
Tip #3: Celebrate the things that went well.
Unless you've had one of those magical unicorn days where everything just clicks, your race is going to be a combination of good and bad. Even if the ultimate outcome is not what you wanted, there are almost always things you did do well.  When I DNF'd in Cozumel, my race in whole was something of a disaster, but if I look closer, there were things that were great, too. I found a strong pack of swimmers, drafted like a champ, and got through T1 well. After my first flat, I settled my emotions quickly and got back to work. Don't forget to celebrate the positive! And if it went great, awesome – still take a moment to figure out what you did so well to make it a winning day. Then, you can do it again next time.
Tip #4: Take those lessons, make some changes, and move on!
Once you've gone through the process of assessing your race, working through some of the initial emotions, and putting plans in motion to address areas of improvement, it's time to turn the page. If your race was disappointing, nothing good is going to come from continuing to dwell on it. Nor should you get too complacent with a win! Start from where you are as a new, more experienced athlete, and take your lessons forward towards the next one. Onward!