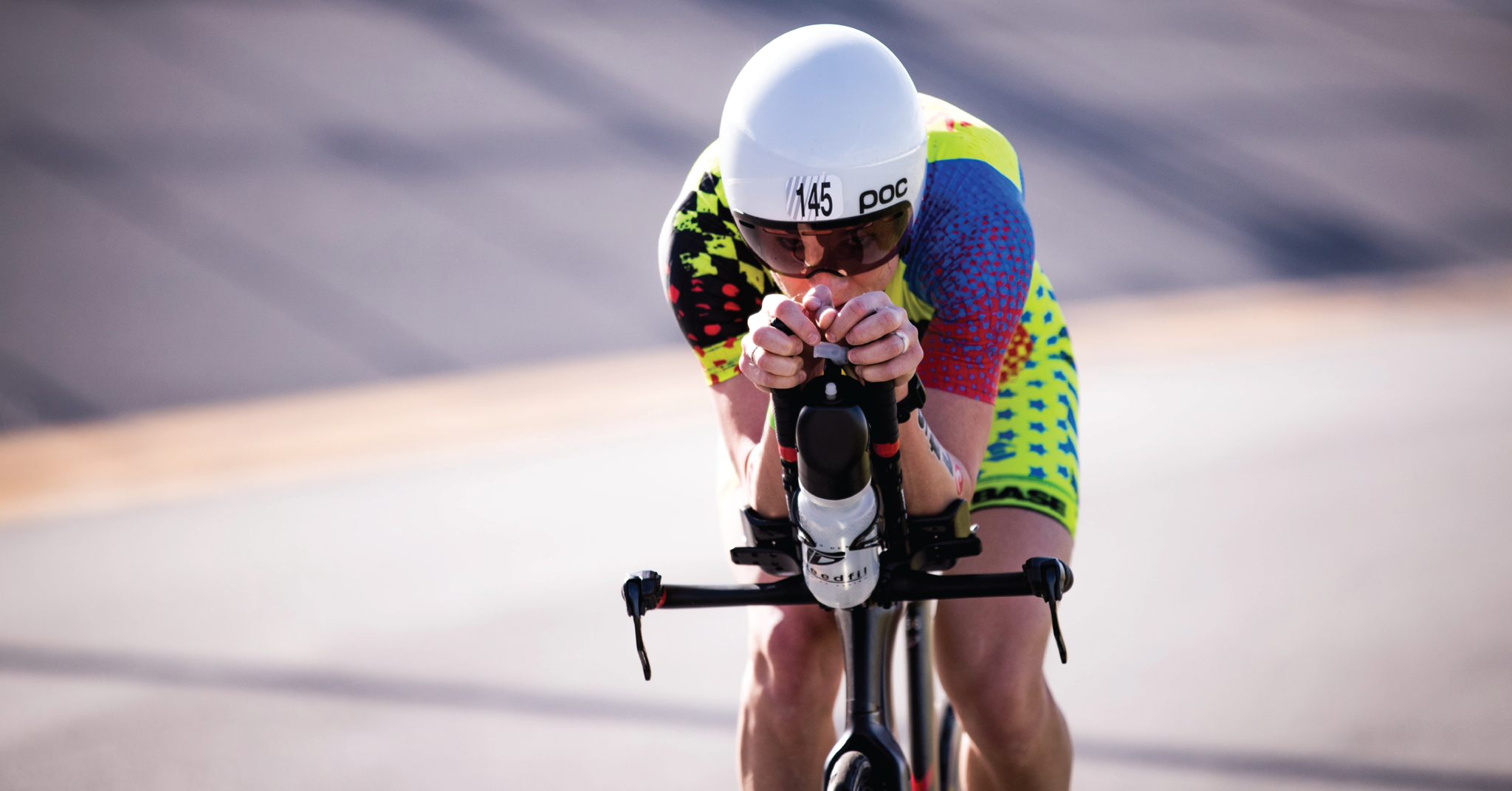 Danielle Lewis riding at the PTO Championship
Photo by the Professional Triathletes Organization
Several months ago, Lisa with SurPhyto asked me to write a blog about "overcoming obstacles." It has taken me a long time to write this because when she asked me, I was in a pretty dark place mentally. I didn't feel that I was handling the challenges I was facing in a way that was worth being a positive voice in "overcoming obstacles." It had been nearly a year of set back after set back and my confidence was rocked. I thought I needed to wait until things were relatively good before putting pen to paper. But looking back, how much cooler would it have been to write from a raw place and simply say, "Things suck. But I'll keep pressing. Why? Because I know the dreams and goals I've been given will come to fruition if I just keep going and believing."
Much of the remainder of the article was written a while back and is as raw as it gets. I hope that you are encouraged and find something to help you face your challenges with confidence and a daring attitude.
Journal Entry: August 18, 2021.
I'm having such a hard time. I feel sad, frustrated, lonely, lost, empty, angry, numb.
I had a mental break yesterday during bike workout. I thought, "I'm so tired. Everything hurts. I can't do this. I'm missing all training marks. So why. Why keep pushing every day. Why be so tired, missing family, exhausted every day with little energy for anything else in life. It's all for what?"
I've believed in the vision and dreams I feel called to for DECADES. But what do I have to show for myself? I'm at my wits end. I feel empty with little left to give.
I keep fighting to find motivation and, yet, I still find hot embers in my spirit that whisper, "keep going. Your time is near. Don't quit. It will be worth it."
Why share this? Well…I share for three reasons. First, I do not believe I'm much different than anyone else that has fought for their dreams and goals. Anyone who has set out on a purposeful journey to make their dreams a reality will have doubts and adversity that shake their confidence. They will go through a range of emotions that cause them to question why they set out in the first place. Having these thoughts does not make one weak. Allowing them to control oneself…perhaps. But acknowledging them is the first step in allowing them room to breathe and repurposing that energy positively and focused on controlling forward motion.
The second reason I share this is to acknowledge that professional athletes struggle just like everyone else. Professional athletes seem to have an impenetrable exterior to adversity. Perhaps that is true. Trash talk from others or adversity that comes from outside our control seem to have a way of strengthening us. But when that trash talk comes from deep within, it is easy to let what appears as external strength crumble us from the inside out. The negative internal dialogue has a way of targeting core beliefs. Why? Because it comes from ourself. And we know ourselves the best. We know the weak points that we keep secret from the outside world. I recently told Andrew, my husband, "It feels like all day I hang out with three people… 'Me, Myself and I' and two of those people will not stop bullying 'Me'."
This year has been one of the most challenging, athletically, I've been through in a long time. So much so, that I wish I could have 2020 back! Despite our world going through what seemed like the apocalypse, I podiumed in four of my five races. I got injured during that fifth race, Challenge Daytona, and that seemed to begin a domino effect of injury and illness throughout this year. After recovering from that injury, I went to training camp in January, only to get a respiratory infection. After recovering from that, I had issues with hormones and energy levels that limited training. Shortly after finding some momentum, I injured a hamstring and couldn't run for a few weeks. Then I started having heart issues. Abnormal EKG results sidelined me and caused me to limit activity for two months while I underwent extensive cardiac testing. As a result, I sat out of three races. A few weeks after I was cleared to resume activity, I got a gnarly head and chest cold that caused me to miss additional training in prep for the IM 70.3 World Championships. 
None of these events have independently been serious or chronic. Yet, the compounding effect of injury and illness over and over has challenged my confidence and mental health, as evidenced in my journal entry. Yet, it has all served to bring me back to why I do what I do. If I did not consistently remind myself of WHY and if I did not have a deep belief in this, I would have thrown in the towel a long time ago. I would have saved myself a lot of disappointment, internal and external pain, challenges, and discomfort. But to do that would have been settling for a life of comfort apart from the dreams and goals that have been engrained in my spirit. Subsequently, I would have missed out on the greatest joys and experiences that have shown me it's worth it.
Third, I share this because I believe there is someone, somewhere, perhaps you, that needs to be reminded that you are worth fighting for. Whatever you are going through is not bigger or more powerful than that purpose on your life.
I could write an elegant list of "how-to overcome adversity." But if you are facing adversity right now or whenever you go through it next, the last thing you want to read is "stay positive! This too shall pass. Just stay focused on your goals. Take it day by day. Write down what you are thankful for. Remind yourself that you are a bad-ass." All of these things are good. And quite honestly, I think are much easier to implement and develop as daily habits when things are going well. 
If you are in the thick of a challenge right now, I'll tell you this:
Be slow to make big life altering choices. Our fight or flight instinct may direct us to run from the hard stuff and throw in the towel prematurely. Identify a close family member or friend to talk to and find support. If you don't have someone close that you feel comfortable speaking to, spend time journaling. Allow yourself freedom of thought and do not criticize yourself. Direct yourself back to your purpose and let that sink in. You will be surprised at the resolve you find when you allow yourself to express what you are feeling and meditate on why you set out in the first place.
Just keep going. It is really that simple. You will never regret persisting. You will, however, regret quitting. Just keep going.
You will question if the dream is real and/or worth it. Trust your gut. When that part of you that is hurting says, "I don't want to do _____", do the opposite of it. Chances are that the things you don't want to do are the things you need to do to keep moving forward.
If you are not going through a challenge right now, YAY! Celebrate. Your time is coming. Prepare for it. Create a structure for your life that includes setting short and long-term goals. Develop positive habits that support you reaching your goals so that when challenges come, you be able to operate habitually instead of by emotion. Take note of the wins you have in your daily life so you can remind yourself that you have what it takes to keep moving forward despite what you face. Also, identify a list of positive statements or affirmations that you believe about yourself. This is nearly impossible to do when things are tough, so do this when you feel good about yourself and remind yourself about these things daily.
Finally, if you are someone who has chosen to boldly journey towards a scary, uncertain, exciting dream, you will face challenges. You will have incredible highs and lows. Family may question you. Friends may leave you. Doubt will creep in. You will find yourself standing alone presented with a fork in in the road to live a more comfortable, secure life. But, I promise….if you keep believing and act in confidence, all of the hardship you face will fade away in light of your greatest triumphs. Keep going. Keep fighting. Keep believing. You are worth it.