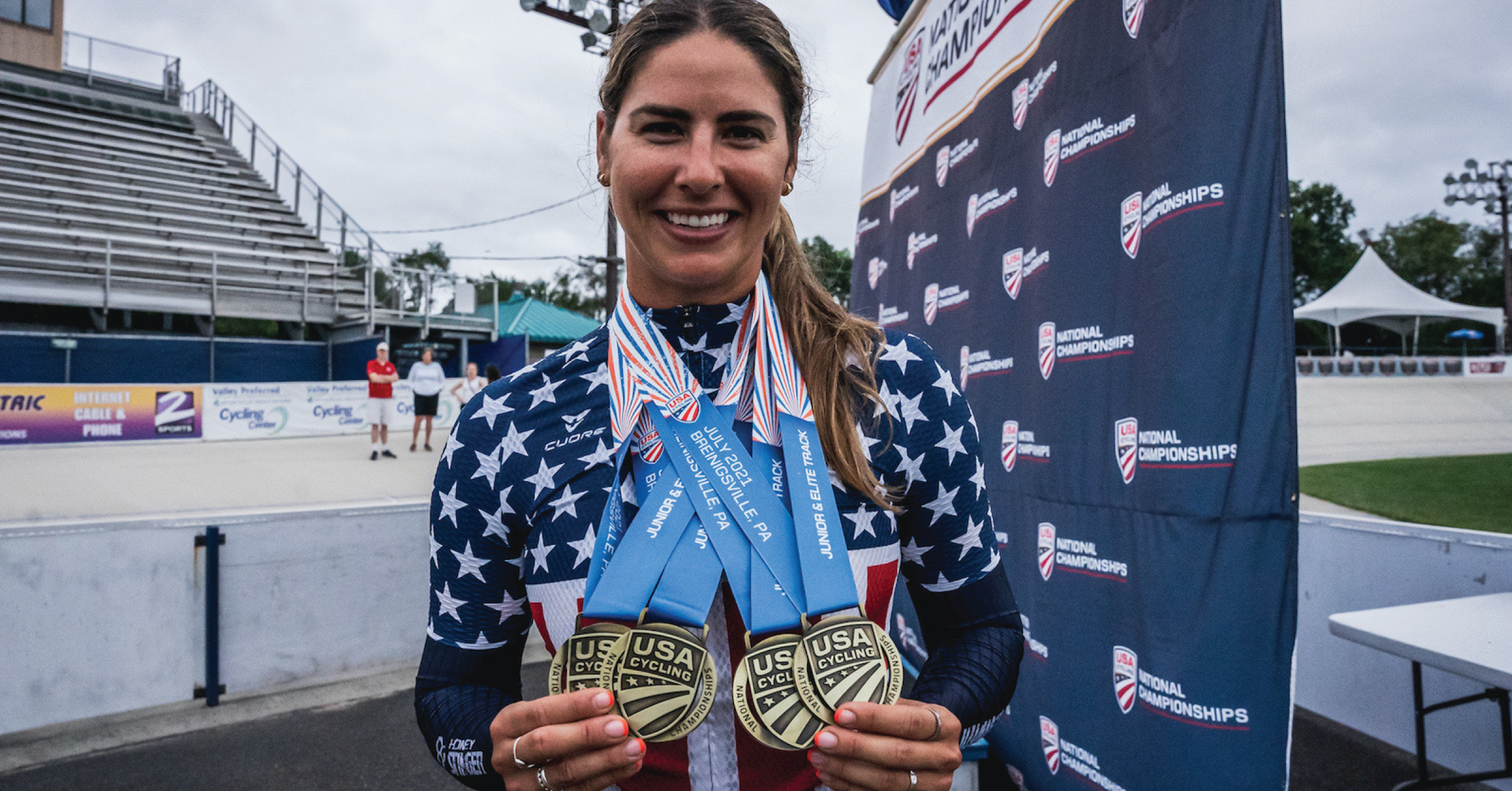 Mandy Marquardt holding her gold medals after the 2021 Track National Championships
Photo by Vishrut Garg
This year has challenged me in many ways and not making the Final Olympic Team was bittersweet. Over the last few years, it's been an incredibly fulfilling experience and an honor to represent my country throughout major international events, focusing on helping accumulate Olympic qualifying points for the United States alongside my teammate. Though I wasn't selected for the Final Olympic Team for the 2020 Olympic Games in Tokyo, I stand ready if the team needs me and will be cheering on my USA Cycling teammates.
If living with type 1 diabetes has taught me anything, it's resilience. Being diagnosed at the age of 16, I endured a life-changing obstacle and a doctor who told me I would never be able to compete at a high level in my sport. I was briefly in denial and blamed myself. That experience has made me mentally and physically stronger because I took control of my new life with diabetes.
As years passed, I learned to accept that things aren't always meant to be and that everything might happen for a reason. I'm grateful for my health, the resources to manage my diabetes and the opportunity to race for Team Novo Nordisk, the world's first-all diabetes cycling team. I have found a greater purpose beyond the bike. I'm grateful to be helping others living with diabetes.
After thinking more about not making the Olympic Team, I told myself – it wasn't my time.
I absolutely love the sport of track cycling and have shifted my focus to the next training and racing block. Going into the week of the 2021 Track National Championships, I hit a Squat PR in the gym and surprised myself. My Coach, Andrew Harris and I decided not to taper for the event because there are major international events on the horizon.
Winning all four USA Cycling National Track Championships in the Women's 500m Time Trial, Keirin, Sprint and Team Sprint at my home track in Allentown, Pennsylvania with both of my parents there was really special.
When I look back at my career, 2019 was one of my best years racing at the international level, representing the United States. For it to all come to a hard stop in March of 2020, without any racing for 14 months crushed me. My mindset was to stay consistent, to continue putting in the work because I never wanted to lose everything I worked so hard for. Something inside kept telling me – your time will come.
Even if you don't always have control of the outcome, you can control how you respond.
Alongside my cycling career, I'm excited to pursue my MBA with Penn State. The journey continues. Inspiring, educating and empowering everyone affected by diabetes continues.  
Perspective is everything.  
Especially in sport, we can be incredibly hard on ourselves. It's easy to put ourselves down, but what you think about and tell yourself everyday will manifest an impact on your life. Looking back at my career, I've grown on and off the bike. Staying on top of my health and being consistent has put me in a position to race with diabetes and even train through a National event, setting the bar for Women's Track Sprint Cycling in the United States. If you continue to show up everyday and do your best, you're a step ahead. Don't forget to look back sometimes and see how far you've come.
When one door closes, another one opens.