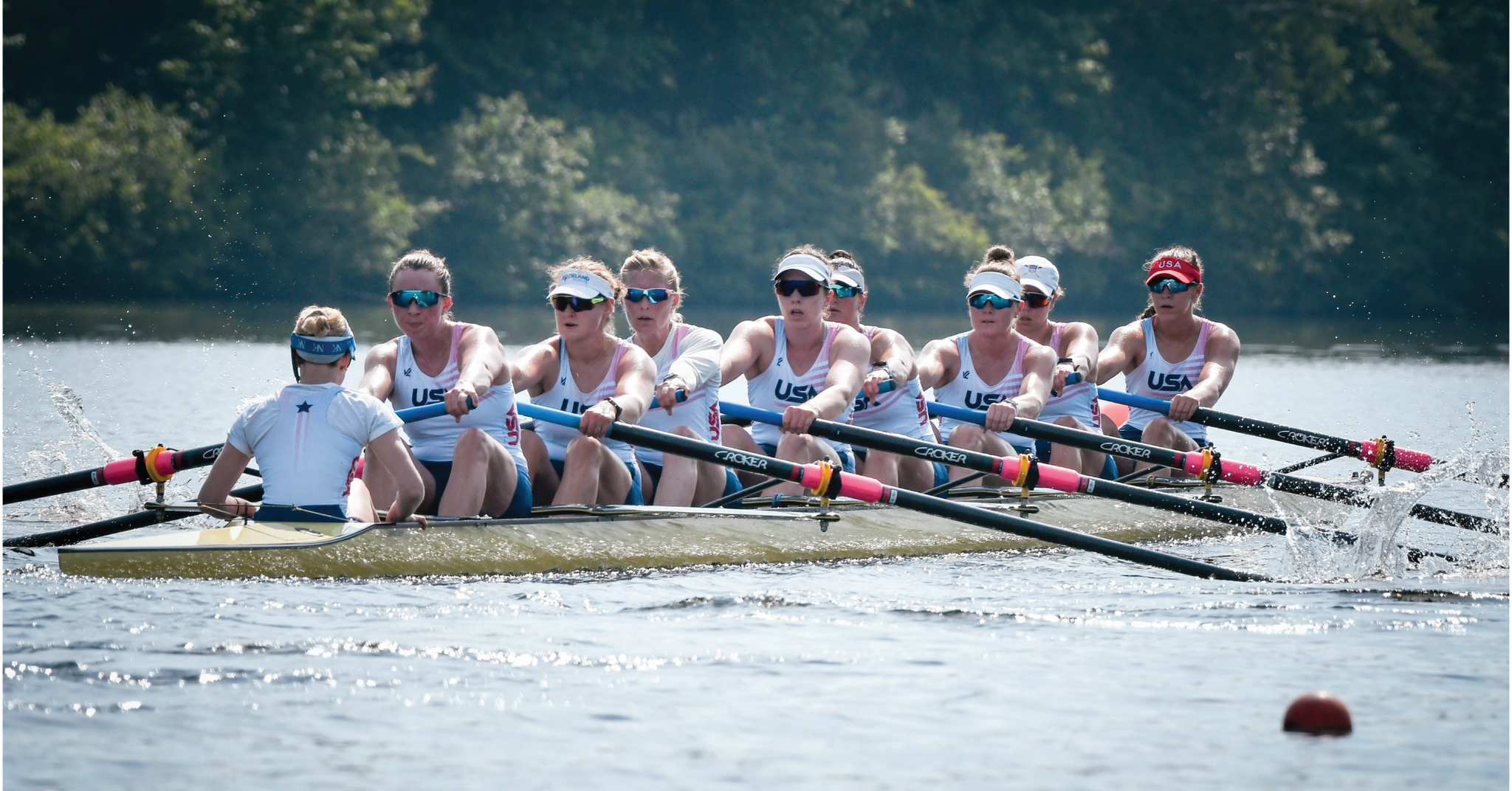 Team USA Rowers
Image provided by Brooke Mooney
Sur PhytoPerformance Elite Team members are going to TOKYO! Brooke Mooney and Charlotte Buck will be representing Team USA in women's rowing this summer at the 2021 Olympic games. They are both part of the 8+ boat with their competition kicking off on July 28th. Check out our Q&A to get to know Brooke and Charlotte.

How and when did you first get into rowing?
Brooke: I grew up as a very competitive cross country skier in Vermont. I attended a ski academy from 8th grade to 11th grade. During my time at the ski academy I knew I didn't want to ski in college even though I was getting good results. With this in mind I attended a couple of camps at Craftsbury Outdoors Center. I decided to transfer schools for my senior year of high school to Vermont Academy. That is where I started rowing year round before heading to college at University of Washington.
Charlotte: Before I started my freshman year at Columbia, I knew that I wanted to try something new. In high school, I wasn't much of an athlete but I played tennis and basketball. I was much more intense about chamber orchestra, Shakespeare plays and debate club than sports. The summer before my freshman fall, I made my mom start rowing a double with me with the adult team at the local club, Rockland Rowing. I quickly fell in love and made some of my closest college friends when I started at Columbia. When I graduated, I continued training at New York Athletic Club with the hope of being invited to National Team training.  
What was the selection process like to make it on the Team?
Brooke: The selection process was one of the most stressful and exhausting few weeks I have ever gone through. We get ranked off of workouts all year and all of these were building off of each other through selection. Our true olympic selection started at the beginning of April when we got back from our winter training camp in San Diego. The first half of selection we were rotating through who we rowed with and pushing fitness on the erg. The second half of selection we did a lot of racing in multiple boat classes as well as racing on the erg. All of these pieces built on each other to set us up for final selection aka seat racing. Seat racing is when all the boats do a race piece and then switch 2 people and do another. In order to win your seat race the boat you are in goes faster than the boat you were in for the piece before. We did switches like this for 2 weeks working down to the olympic team. The most important part of selection was being able to show up each practice ready to go not knowing what could happen that day. Between practices we did our best to recover, eat, hydrate, sleep and get our legs flushed.
Charlotte: The first step for big boats (8+, 4–, 4x) is getting an invitation to team training or camp in Princeton, NJ. I was a very late invite for this olympic cycle, the coaches asked me to come down to train being in July of 2020. The team for the sweep boats is chosen from the 24 athletes that train here full time. We have a monthly evaluation, consisting of racing on the water and on the erg. Starting in the spring of 2021, we did a series of racing in small boats, ergs, and finally a grueling two weeks of direct switching on the water. It's the most challenging and nerve racking experience I have ever had. You never know if this is the day that is going to make or break your dream. The relief and excitement when our coaches finally announced the lineups was unbelievable. 
What are you looking forward to most going into the Olympics?
Brooke: The olympics this year will be like none other. There are so many aspects of the games that have been affected by COVID. With so much of what the games are known for not happening I am looking forward to it being all about the racing and not the extra stuff. Most teams haven't raced since 2019 so I am very excited to see what happens on the race course. There is no way of knowing or predicting speeds of other boats so everything will be a surprise. It will truly be anyone's race. 
Charlotte: I am most looking forward to racing itself, the feeling of getting to line up against our competition and show them what we can do. I know that our boat can win, and nothing is going to be more satisfying than proving what we can do. The journey to get to the start line in Tokyo has not been simple or linear for any of the nine women in the 8+ but it has made us the toughest team on the water.  
Looking back, what piece of advice would you give to your younger self?
Brooke: Looking back at all the years I was an athlete I would tell my younger self to make sure you are having fun with what you are doing. It is especially important at a young age to be outside, having fun and being active. This doesn't mean you have to be winning anything but I think having a good mindset around athletics and being active is what allows for a long athletic career!
Charlotte: My advice to my younger self is to be patient and kind to oneself. As someone who dreamed of getting to the highest level of my sport, I often felt like my progress wasn't quick enough. I just wanted to be better, to win easily, to be in the top boat. But all those things take a lot of failures and setbacks before you find success. I am often very hard on myself when things do not go the way I planned but ultimately, you learn way more from the races you lose than the ones you win. 
Brooke and Charlotte in front of Olympic Banner Photo provided by Brooke Mooney
Charlotte Buck rowing in a single Photo provided by Charlotte Buck