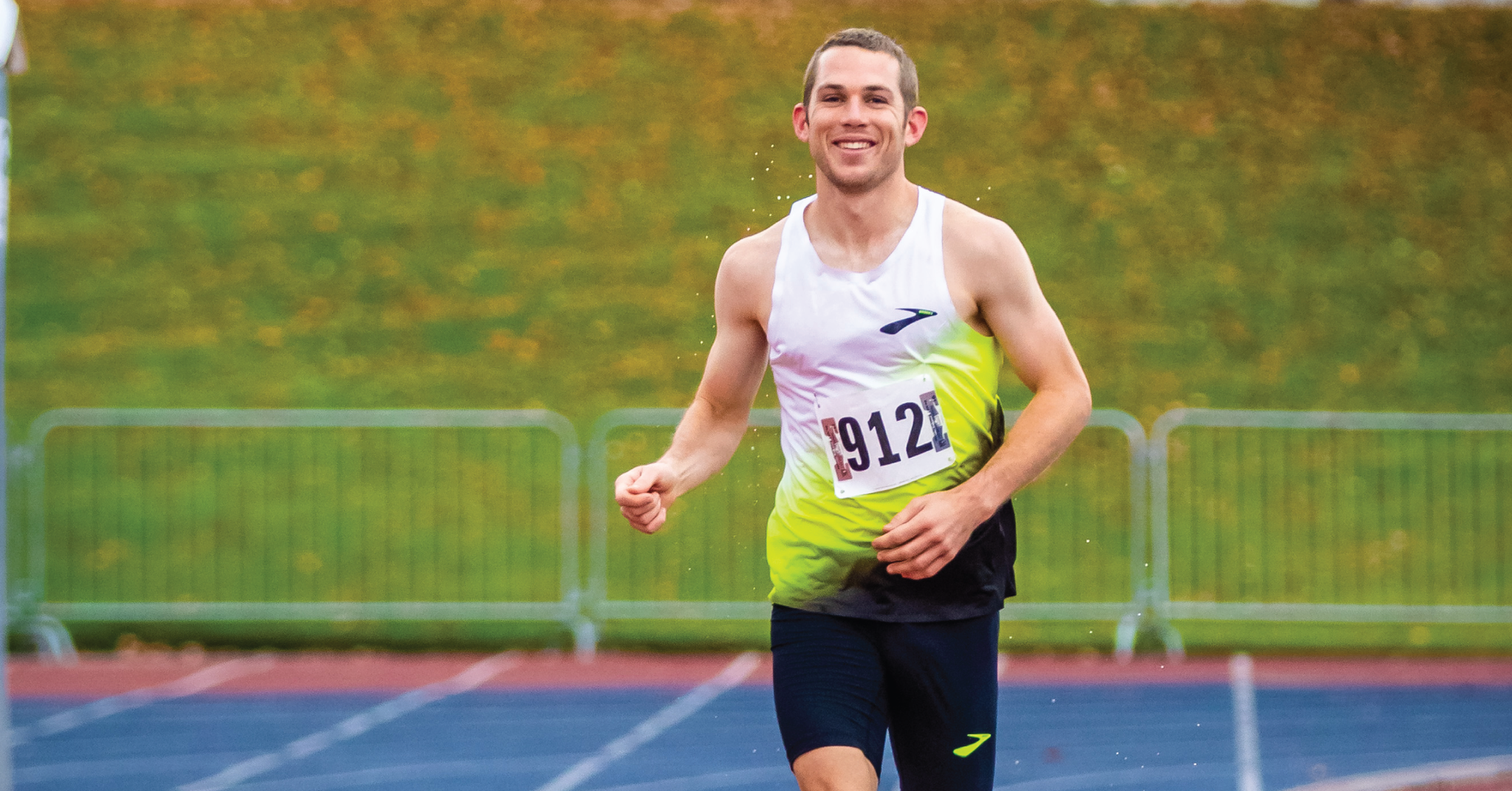 CJ Albertson smiling en route to setting the 50k World Record
Photo provided by Brooks Running
A chapter comes to an end, as I cross the line last.
My competitive days are over, and college becomes the past.
I move on to rec. running, racing in a cotton tee
Trying to figure out life, and who I'm meant to be.
But there's a voice in my head, that says I'm not done
There's records to shatter, and titles to be won.
I ignore this for now, just random thoughts in my head
Dreams are cool and all, but I have a wife in my bed.
A year goes by, and I get a job at a college
Coaching and teaching, passing on knowledge.
Inspired again, I try a 26.2
Training comes easy, 100 miles becomes few
My 5th week in practice, I decided to have some fun
I ran a marathon in training, a hilly 2:21. 
About 2 months later and whole lot of miles,
I raced my first 'thon, and qualified for the Trials.
The next year flew by, as fast as 211 laps
An indoor marathon record, and a darkhorse perhaps?
Then came Atlanta, The Olympic Trials race
I crossed the line shocked, finishing 7th place.
7th in the nation, how the heck could this be?
I heard that voice in my head, "Now, will you listen to me?". 
It was overwhelming joy, and excitement for what's ahead
A contract with Brooks, and Majors to shred
Then the world stopped, by a virus I will not name
And time began to stall, every day the same
I wasn't doing great, but you couldn't tell from afar
Treadmill feats, a record, and even a PR.
As the days dragged on, I didn't take action
Isolated and inactive, never brings satisfaction
But the voice is still there, reminding me my fate
So it's time to get up, it's time to be great.
CJ Albertson running during his 50k world record attempt
Photo provided by Brooks Running