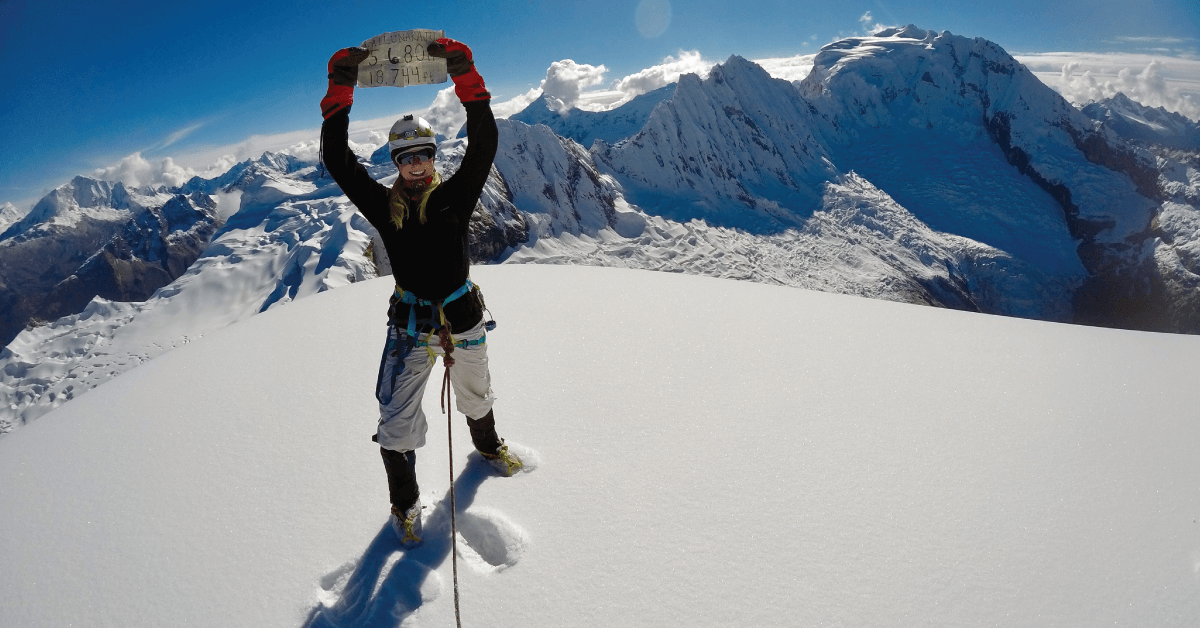 Annie Dube on top of a Mountain
Photo provided by Annie Dube
It's officially peak season! Snow is melting (or long gone here in SoCal) and we've got more hours of daylight to burn. The mountains are calling and, like many, I'm finding myself daydreaming about what adventures I want to add to the bucket list.
Growing up in Michigan, I was always fascinated by the mountains. Annual ski trips to Colorado with my grandparents stoked my curiosity and the fixation intensified when I moved out west for work. A few years back, I decided to take a break from my corporate career and booked a one-way ticket to South America on a whim. I set off with the intention to climb some of the high volcanic peaks within the Northern Andes of Ecuador - go big or go home right?
To preface this, I had some rock climbing experience at this point but zero alpine skills. I spent a few weeks living with and learning from some of the best mountain guides in Ecuador. We spent long days on the mountain building snow/ice/rock anchors, practicing self arrest, glacial travel, ice climbing, and crevasse rescue. Over the course of the next few months, I successfully climbed 15 peaks ranging from 14,000' to 21,000' in Ecuador and Peru. That trip changed my life in so many ways.
I believe that time spent in the mountains makes us better humans: more self-sufficient, more capable, more prepared for the unexpected. It's where I feel most present. And when I'm completely engulfed in a moment, my senses are intensified. Watching the sunrise from the summit of Mt. Rainier becomes a transformative experience…"an explosion of fiery yellows, oranges, and reds form a band of light over the eastern horizon, casting light onto the dark volcanic peaks below. The triangular silhouettes of Mt. Adams, Mt. Saint Helens, and Mt. Hood hover in the distance and a warm golden glow reveals the intricacies of the surrounding crevasses."
With lots of big mountain races to train for this season on the OCR calendar, I'm as stoked as ever for many summit days this summer. Racing can be thrilling, but what keeps me in this sport is my love for training. And while much of my training looks fairly conventional (tempo runs, hill repeats, gym sessions), I feel so fortunate to be able to play in the mountains and explore some beautiful places as part of the process. 
Happy peak bagging!