Brooke Mooney's Favorite Rowing Workout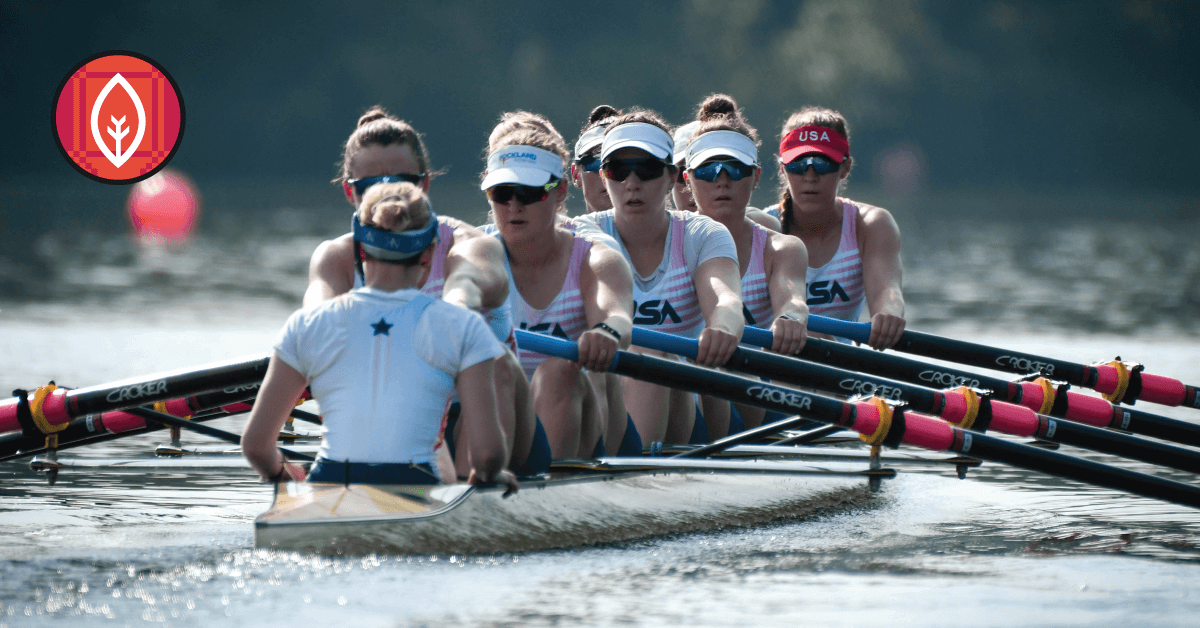 Brooke Mooney and her teammates rowing
Photo by US Rowing
Brooke Mooney and her teammates rowing
Photo provided by US Rowing
This is a great workout to see improvement week after week. While it is a hard workout, it is repeatable. This workout is one that you can make as hard as you want depending on where you start the workout. The goal for the workout is to have the second half of the workout faster than the first half of the workout or if you really want to push yourself you make each interval faster than the interval before. To put it in perspective I do steady state at about 18-20 strokes per minute and max out my 2k race at about 34 strokes per minute. So since the intervals are controlled by the stroke rate, this workout can also really help with power per stroke.
Warm up:
I use this warmup across the board for all of our hard workouts we do on the national team. I start with some steady state to get the body warm up and awake then slowly increase the pressure and the stroke rate until I have hit race rate or rate of the intervals.
Take 1 AltRed Capsule 1 hour before starting the workout!
20 minute warm up:
10 minute steady state
1 minute hard press at 22 (At a stroke rate of 22 go 70-80% pressure (of max at that 22). Going hard at a low rate will help warm up the body and get it ready for going hard in the warmup)
1 minute easy row
1 minute break - drink water, stretch, walk around
8 minutes of power pieces (20 strokes hard, 20 strokes easy) - building up to race rate and then back down to starting rate for the last power piece.
Main set:
5 x 5 minutes with 4 minutes rest after each 5 minute block as-
5 minutes @ stroke rate 24
5 minutes @ stroke rate 26
5 minutes @ stroke rate 28
5 minutes @ stroke rate 26
5 minutes @ stroke rate 24
Cool Down:
20 minutes total including
10 minutes of light erg flush (super easy) and 10 run or light steady state on the erg