Finding Success with Lauren Salko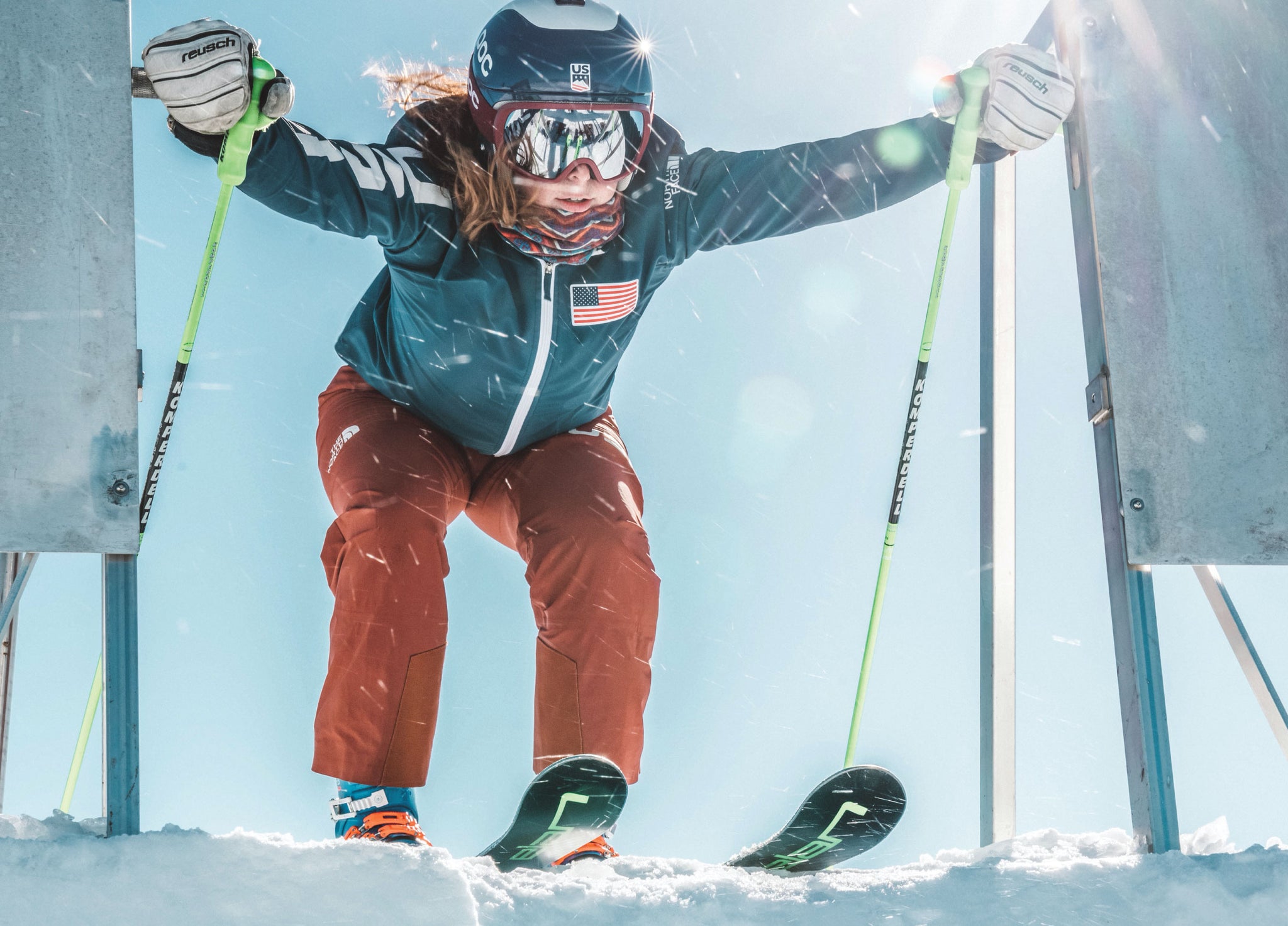 Lauren Starting a Downhilll Run
Photo by Niko Opetnik
I first started competing in skiing when I was a sophomore in high school, which is actually quite late compared to other athletes. I raced alpine, which is traditional ski racing (timed runs around gates), all through high school and was fortunate enough to continue in college where I raced for 4 years at Saint Anselm College in Manchester, New Hampshire. I was a part of the women's alpine team at Saint A's in 2013 that came in 4th at the USCSA National Championship. It was actually at the 2013 National Championship that I first saw skicross. The next season I competed in my first skicross races and loved it! That year I earned all-American status and in 2015 (my senior year of college) I had the opportunity to compete at World University Games where I placed just outside the top 10 in 11. After college, I made the decision to move out to Park City, Utah to pursue skicross full time.
When I started skiing professionally, I didn't know any other professional skiers with type one diabetes. I knew people who skied recreationally with type one, but nobody who traveled the world to compete professionally. I figured I could experiment and learn how to control my blood sugar, sure it would take time, but with the right medical team beside me, it was doable. To be honest, I was more concerned with the logistics of it all. How would I get enough insulin to bring with me on the road? How would I manage to bring enough insulin pump supplies? How much did I really even need? How do you travel internationally with a service dog? How would I find a team to help me achieve my goals and how would I explain my diabetes to them? There were just so many variables and challenges to navigate. I would be lying if I said that I knew it would all work out just fine, and it would also be a lie to say that there haven't been some hiccups along the way. I am sure there will be even more hiccups in my future as a professional skier. It may sound silly, but my goal of competing with diabetes has always been to do everything I can to make sure that diabetes isn't the main character so that skiing can be. Here are the things I focus on to be successful as a professional skier with type one diabetes:
No matter who you are or what you do, find a care team that supports you.Since I moved to Utah to ski professionally in 2015, I have been a patient at 3 different endocrinology practices and in the practice that I am with now, I have found the perfect team. I needed a care team that was just as forward thinking with technology as I am and as willing to push the status quo.
Plan ahead, and then make backup plans. I always plan to bring enough diabetes supplies with me for double the amount of time I expect to be away. When I travel, I make sure I carry on all my medical supplies and even give some to a teammate to carry just in case.
Pay attention to the little details. I write everything down. I journal all of my food intake, my training, my supplement intake, and my sleep and other body metrics. I want to know what is going on in my body so that I can make sure that I am in the best place possible to succeed. It may seem tedious but making sure that I record everything makes it easier for me to manage my blood sugars and problem solve anything that comes up quickly.
Be open and honest with your coaches and teammates. I am super fortunate to have coaches and teammates that understand me as an athlete, person and diabetic. My head coach even has real-time access to my blood sugar information through the Dexcom follow app on his phone.
Ask for advice from others.Just because there weren't any other professional skiers with type one that I could ask questions, didn't mean there weren't other people with diabetes who travel extensively or compete professionally in other disciplines. I even asked some US Paralympians how they traveled with their service dogs.
Don't sweat the small things. Things are going to go wrong. Pumps sites will go bad, high blood sugars will happen. Be thankful for the mistakes you make because they are an opportunity to learn and become better at whatever you do.
Don't let one thing define you. Diabetes is a big part of my life, but skiing is why I am here. Managing my diabetes just allows skiing to take a bigger priority in my life and allows my skiing to be centerstage. 
No matter what you do, in athletics, diabetes and in life there will always be highs and lows. Focusing on process, rather than result, oriented goals help to make sure that your goals are attainable and that you are always moving forward. I really feel like the things that make me successful at managing my diabetes are also the things that make me successful at high level sport.
Lauren at the start of a practice run
Photo by