Rudy von Berg's 70.3 Les Sables Winning Race Recap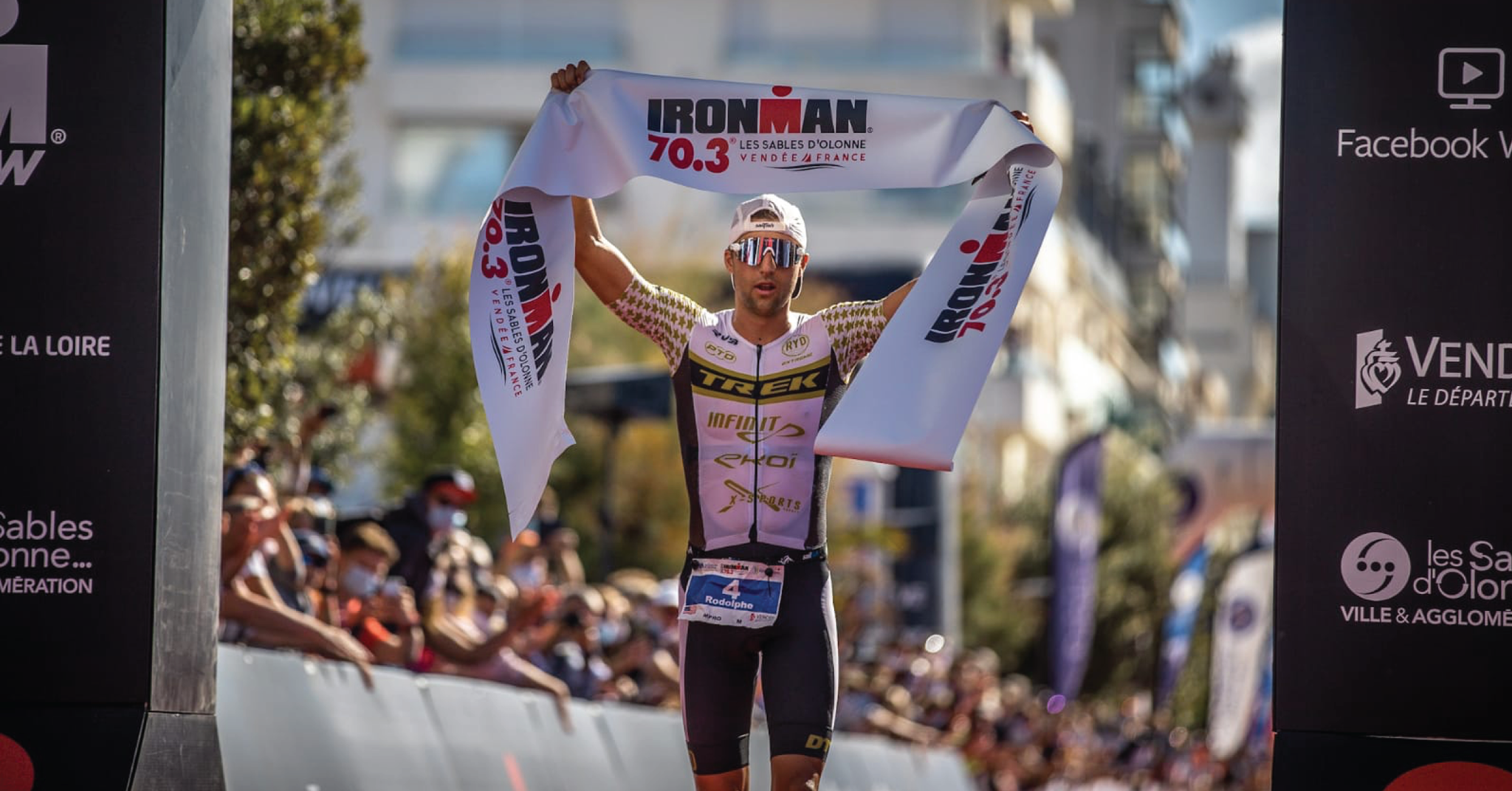 Rudy winning Les Sables 70.3
Image by @thatcameraman
I traveled from the US to France in mid August, about two weeks before 70.3 Les Sables. I hoped to get the first race of 2020 in the books, but was not 100% sure if it was going to happen. Thankfully, the race went off and it was really nice to get in at least one competition this year and make a bit of money. Training for 10 months without racing gets a little tough sometimes. With all that is happening in the world, that race might have been the first and last of the season for me.
I flew from Nice to Nantes (center west France on the Atlantic Ocean) two days prior to the race, and settled into my hotel before going for a run and an interview for French TV. After that we had a Facebook live PRO Briefing where we had to 'message in' saying we were there. The day before the race, I rode 40min really easy, picked up my race packet, and I was ready to rumble the next day.
All the gear for tomorrow!
Photo by Rudy von Berg
I woke up at 4:10am, 3hrs before the 7:10am start, and took an AltRed. Even though it was really special racing this year, I felt pretty normal and just concentrated on the task and effort ahead. In my head, this was a one opportunity affair, and I told myself that only the win counted and that I had to win. In general, I put a lot of pressure on myself because I am ambitious in the sport and want to win the biggest races in triathlon. If I can't win a random 70.3 (albeit with a strong field with some top level guys), I won't win a World Championship.
Near the race venue
Photo from Rudy von Berg
We weren't allowed to warm up for the swim due to COVID restrictions, but that didn't bother me. We started with our wetsuits on and our feet in the water. I had an ok start and took the lead after 200m. Never relinquished it. I came out of the water in 23:34, and having swam at 90% effort, the gap wasn't very big between the Top10 athletes. At the start of the bike I made an effort to stay with Belgium athlete, Pieter Heemeryck, as he always starts very fast, close to 400W. There were three of us behind him, and I was the only one able to stay with him at the beginning. A third athlete, Antony Costes, caught us after 10-15km, and we finished the bike together after slowing down from the very high pace of the first 30km's of the bike ride. The chasers were almost 3min down, and weren't a threat for the win at that point.
I had the quickest transition of the race and started with a fast first km at 5:10 per mile pace. Even with that, Pieter Heemeryck caught me and started dropping me. After 8km, he had a 26 second lead. At 10km he had around 30 seconds. Then I started reeling him in, continuing at a solid pace. He also started to slow down. Also, Costes was in third, only 20sec behind me. I never lost hope, and stayed strong in my mind. I knew that he started at a very fast pace, and that he would have to slow down. That is when I would pounce. And that's what happened, I eventually passed him at 13km, and went on to win the race with a 1h11 Half marathon and a 3h44 finish time. Antony Costes who was in third finished in 2nd in the end with a strong second half only 1:15 behind me and Pieter ended up 2:30 back. The top 5 all finished within 5-6 minutes of each other.
 I was stoked to win the first and maybe last race of the season. I want to say a big thank you to everyone who persevered to make the race happen at Ironman France, and my sponsors for supporting us athletes in difficult times- we have each other's back!