Double-Win at the Huntington Triathlon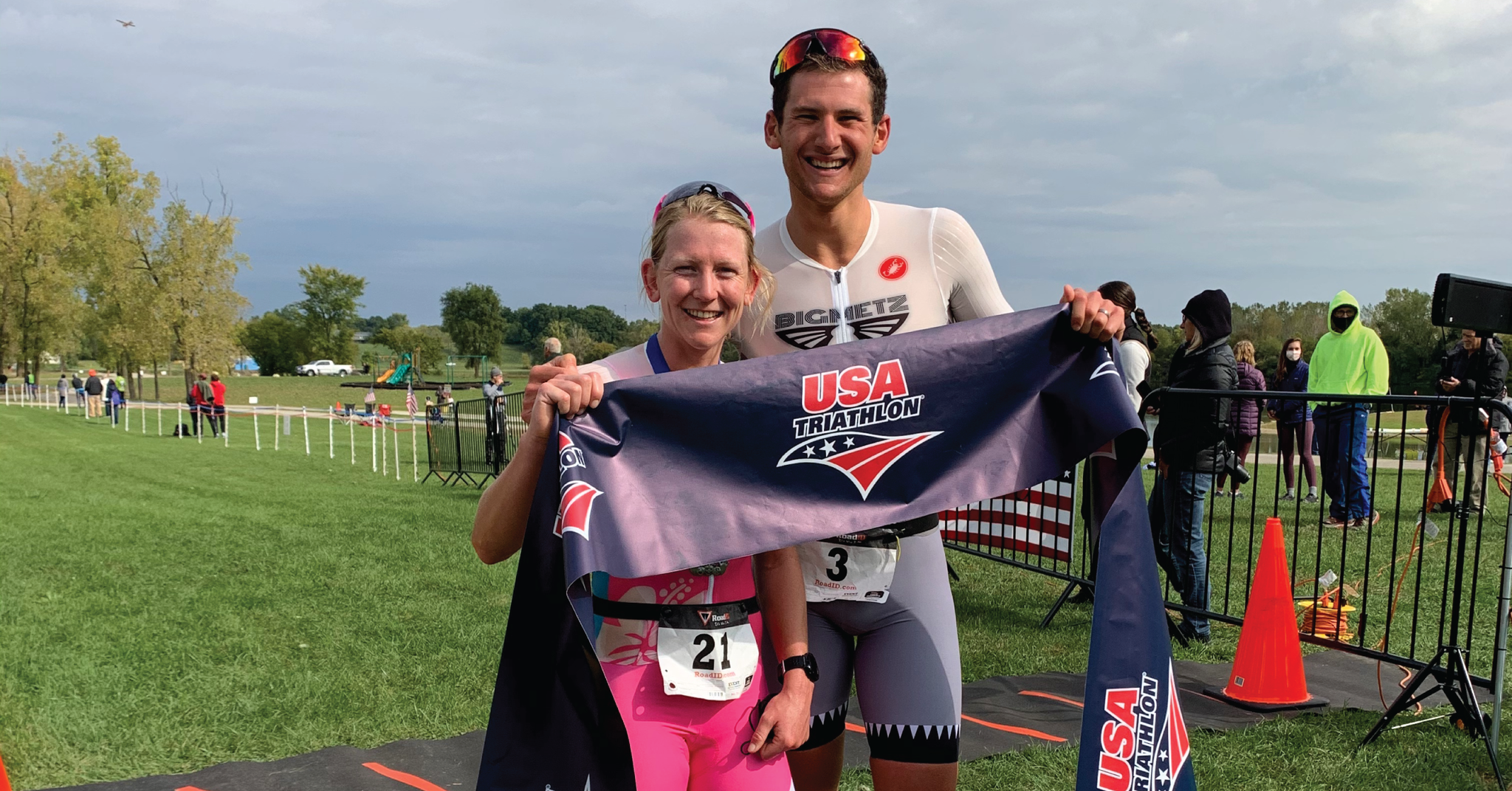 Jeanni and Justin Metzler after Winning the Huntington Triathlon
Photo by Mrs. Metzler
Huntington, Indiana is located just 20 minutes Southwest of Fort Wayne and was the home to The Huntington Triathlon this past weekend. Jeanni Metzler (Seymour), Justin Metzler, Matt Hanson, and I had the opportunity to compete in the professional field with $20,000 up for grabs made possible by the Professional Triathlete Organization (PTO).  
The Olympic Distance race included a two-loop swim, 40k out and back bike on country roads, and a 4 times out and back run. The temperature was a brisk 45 degrees at the start but the competition heated up quickly! On the bike, Justin ended up riding away from the men's lead group and held them off for the duration of the run to snag his first win of 2020! Jeanni came off the bike and out of T2 running neck and neck with fellow professional triathlete, Meredith Kessler. In a close finish, Jeanni ended up grabbing the tape with a 20 second gap over second place securing her first win of 2020 as well! Matt Hanson threw together a strong race finishing 3rd after also racing back-to-back-to-back triathlons. I ran away with 5th place and was thrilled to race with such talented athletes and in 2020 nonetheless! 
Ruble Racing events did an outstanding job creating a safe, competitive atmosphere allowing professional triathletes and age-groupers an opportunity to compete. It felt great to get back to this small grass-roots race which is where triathlon started for me! 
"It was great to get back on the start line as I have missed competing. Racing feels like a privilege these days and I am grateful for the opportunity to push myself and get the most out of myself on the day. The day was made even better by Justin and I both winning!"- Jeanni Metzler
"So stoked to win the Huntington Olympic triathlon. At this point, I need to do everything in my power to get a wildcard for Daytona. I went for the win in Huntington and it worked out! Looking forward to more racing this year and putting all the hard work I did during the lockdown period to good use."- Justin Metzler
"It's always great to find a podium, especially when stacking races back to back! With a schedule like this, it's great to have partners like AltRed to help aid with recovery. Congrats to all of my AltRed teammates who shared the podium!"- Matt Hanson
Jeanni and Lisa after the race Photo from Lisa Becharas