Obstacle Course Racing: Where do I start?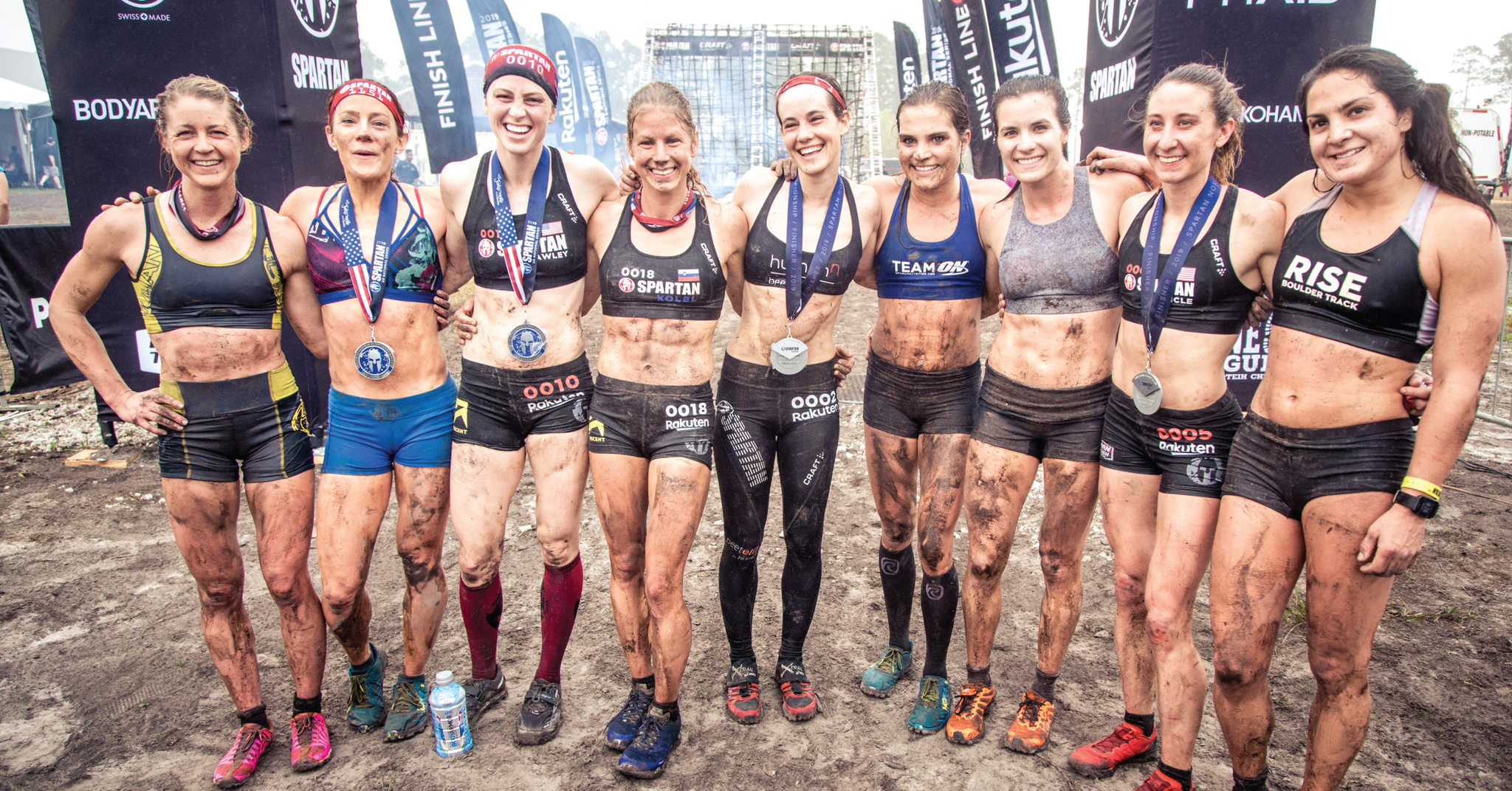 Nicole Mericle with other female elite finishers at a Spartan Race
Image provided by Nicole Mericle
So you want to try an obstacle course race but you have no idea where to start? What race brand do you choose? How do you sign up? Do you need special gear? Most importantly, how do you train? Here's a brief guide to get you started in OCR.
At any given obstacle course race you'll find 3 components: running, strength, and upper body/grip. You'll encounter obstacles like the barbed wire crawl, sandbag carry, rope climb, and monkey bars. Obstacle course races are challenging, but the good news is they're also really fun. Prepare to feel like a kid on a playground. 
Spartan Race is the biggest brand in the game, so let's start there. Your first decision is what distance to do: Sprint (5k), Super (10k), or Beast (Half Marathon). Keep in mind, as the distance increases so does the amount and difficulty of the obstacles. Venues will have information on the terrain and elevation profile. Do your research to find out if your course is hard packed, flat, swampy, mountainous, or known for climbing a double black diamond ski run with two sandbags in tow. Some of the more epic and soul-crushing courses include Killington, Palmerton, Big Bear, and Tahoe.
Next up: what division to enter? You have the options of Open, Age Group, or Elite. Open waves will commonly see lines for obstacles. Participants might help each other or opt out of obstacles altogether. The rules are not as strict and you'll have to navigate crowds. This is a great low-key option if you want to run with a group of friends or just get a feel for OCR. If you enter Age Group, you'll be expected to follow all the rules and complete penalties if you fail an obstacle. You won't find lines at obstacles and helping each other is prohibited. Enter Age Group to test yourself on a clear course. In order to race in the Elite division, athletes must either qualify by first running in Age Group and placing in the top 5 OR submit an application using this link: Elite Qualification System – SPARTAN US FAQ
You can find the official rule book here: Official Rules, Guidelines and Penalties for Spartan Race Obstacles – SPARTAN US FAQ If you race Age Group or Elite, you must know the rules, including how to do proper burpees. Spartan Race loves their burpees- the penalty of choice for failed obstacles. Be prepared to do 30 of them if you falter. In an effort to eliminate ambiguity, Spartan Race introduced running penalty loops for some obstacles starting in 2019. If you're lucky you may see these instead of burpees. 
Let's talk about training gear. In OCR, pull up proficiency is paramount. Get a pull up bar or, better yet, a rock climbing hang board. I recommend a wooden hang board like the Beastmaker 1000 because it will be easier on your skin as compared to a plastic version. Most races include a 50lb sandbag carry for women and a 70lb sandbag carry for men, so it's a good idea to invest in one. Carry it around at the end of a run. Give it a name. Make friends with your sandbag. A set of kettlebells or dumbbells should complete your equipment needs. I recommend 2 x 25 lb weights for women and 2 x 40lb weights for men. You can use these in exercises like farmers carries, lunges, and cleans, which will prepare you for both the strength obstacles as well as the challenging terrain faced on course. The last thing to consider is the spear throw. Buy a spear online or follow these directions to make one yourself: How to Make a Spartan Spear for $15 Or Less As for a target, look at feed stores for hay bales or a sporting store for an archery target. Resist the urge to throw the spear cross-body like a baseball or football. Instead, follow through with a straight arm for more precision.
The majority of your training should consist of running, since that makes up 75-90% of an OCR race in terms of time. Following a 5k, 10k, or half marathon training program is a great idea. On top of that, add in 2-3 days of strength, grip, and pull up work. In order to capitalize on training adaptations, I recommend separating your run and strength training sessions. Simulating a race by blending running and strength elements in practice can be beneficial, but most of the time it's unnecessary. Of course, if your primary goal is to have fun and blended workouts is what you enjoy then go for it. On the other hand, if your primary goal is to win races or to be the best OCR athlete you can be, then train first and foremost like a runner. You can lose a race because of an obstacle, but you'll never win a race unless you run well. Rock climbing is an excellent way to develop grip strength and master the ability to hang and move comfortably through obstacles. If you don't have access to a climbing gym or if you're short on time, use a hang board to develop similar pull-up and grip strength. For heavy carries, thoracic and shoulder stability is paramount. Farmers, racked, and overhead carries are helpful in developing this strength. 
Now that you know how to train, let's take a look at your race day gear. OCR courses are no joke when it comes to terrain. Most have some degree of off-trail quality and mud is a certainty. Look for a trail shoe with a thin and responsive midsole, deep lugs, sticky outsole rubber for better grip on obstacles, and consider a rock plate. VJ Sport Shoes, Salomon, Salming, Altra and Inov8 are some of the more popular brands in OCR. 
Cold weather introduces another challenge- how to keep your hands warm and still use them on obstacles. Enter Blegg Mitts. These are neoprene mittens that pull off and on easily to expose your hands for full dexterity. They are a lifesaver. 
Of course there are other races besides Spartan Race. Most have open and competitive waves similar to Spartan Race. Here is a quick rundown of other major OCR races:
Savage Race incorporates more challenging grip and upper body obstacles. Think Ninja Warrior mixed with running- typically about 5 miles long. You won't see as many heavy carries here. Mandatory obstacle completion means you can retry obstacles, but if you are unable to complete an obstacle, you are out of contention for a competitive placement. You can finish the race, but your result will not show up.
Tough Mudder is more of a fun run. Some obstacles even require the help of other participants. Most people run in large groups of friends. These are not considered to be as competition-focused with the exception of one event- World's Toughest Mudder. This 24 hour obstacle race tests athletes on a 5 mile looped course. Runners complete as many laps as possible within the 24 hour period. Typically held late in the year, competitors face cold temperatures and don wetsuits to stay warm. It is the only Tough Mudder event with prize money. 
OCR WC. The OCR World Championships is not a federated, governing body as it may sound, but it has historically been considered the closest thing we have to a true World Championship. It is inclusive of all OCR brands and attracts an international field. While we now have a governing body called World Obstacle, we have yet to have a federated World Championships. Like Savage Race, OCR WC boasts a mandatory obstacle completion structure and is known to have challenging grip and upper body obstacles. The OCR WC weekend includes 100m, 3k, 15k, and team races.
OCR events take place all year long, but the fall is known as the championship season. The biggest races in OCR occur between late August and early December and include the Spartan Race North American Championships, OCR World Championships, the Spartan Race World Championships, the Spartan Race Trifecta World Championships, World's Toughest Mudder, and the Spartan Race Ultra World Championships. Prior to the championship season, top athletes can be found competing in the Spartan Race US National Series, a 5 race series that puts up more prize money than normal season races and boasts overall series prize money as well.
I hope this helps you navigate the world of OCR. Don't forget to take AltRed before training and on race day! 
Nicole Mericle doing a weighted carry in a Spartan Race Photo provided by Nicole Mericle