Things that Are Very Hard to Bear Are Sweet to Remember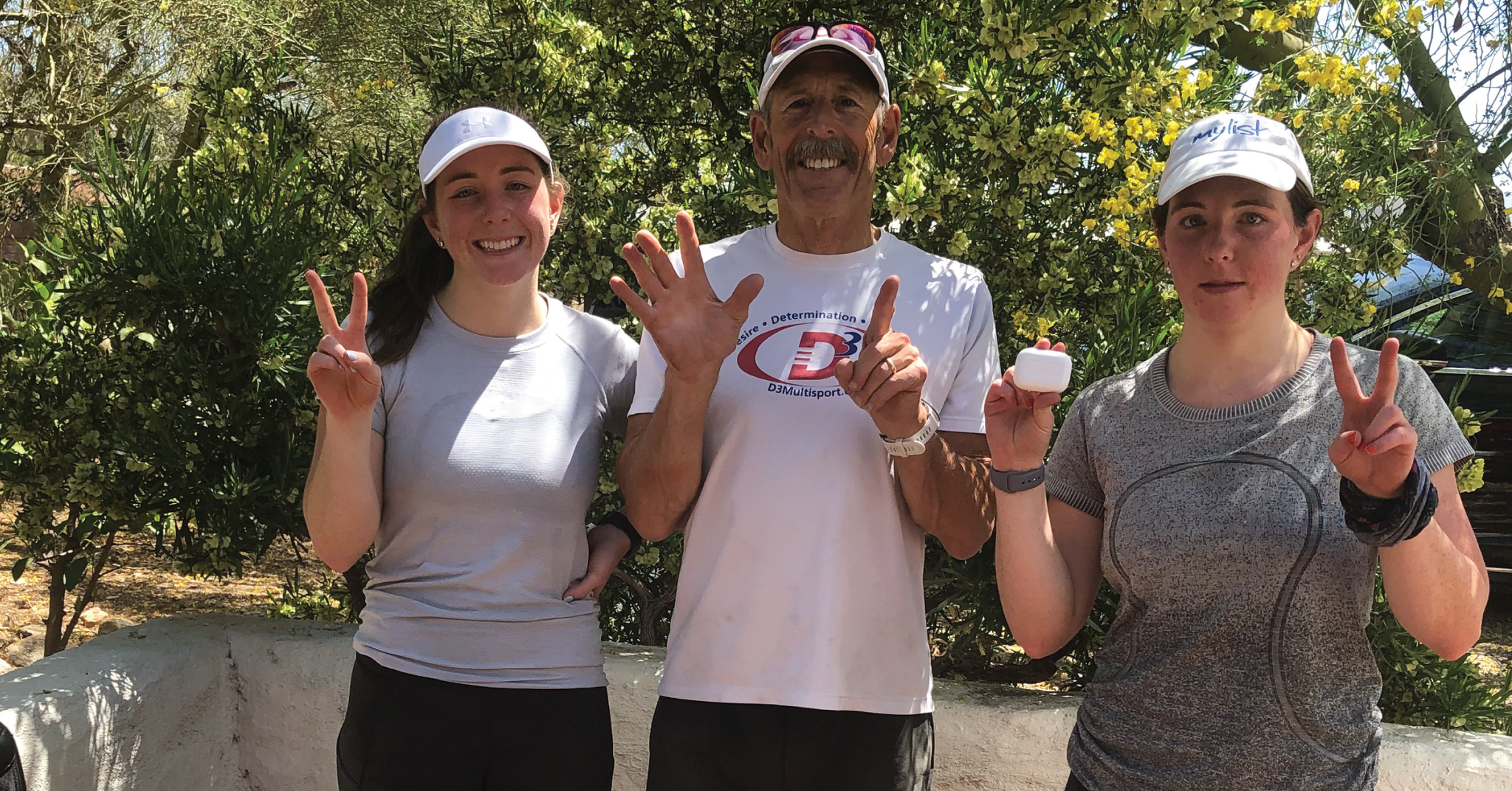 Will Murray and nieces, Audrey and Brittney, after competing their self-support marathon
Image provided by Will Murray
The Roman Stoic philosopher Lucia Annaeus Seneca observed that our strongest and fondest memories are often about when we didn't get what we wanted, and our most memorable stories are about the epics.  He is famously quoted thus: Things that are very hard to bear are sweet to remember.
Do you want to tell your friends a boring story?  Tell them about the race you executed perfectly.  Negative splits, no cramps, felt fresh, left it all out on the race course, PR.
Yawn.
The stories that we remember with sweetness are the ones when we overcame.  
Simon Butterworth's derailleur broke and fell off- completely fell off- half a mile from the start of the bike leg at the Hawaii Ironman World Championship in Kona in 2009.  No stranger to Ironman wins, Simon has competed in Kona 15 times and climbed the podium there five times, including a win in 2017.  Faced with a genuine disaster, Simon walked his distressed bike back to the transition area. When he got there he was told to drag his bike back to where he broke down, so he walked the now-familiar half-mile back to have a mechanic meet him at the scene of the disaster. 
The bike mechanic was unable to offer a solution.  He couldn't rig a fix or even help turn Simon's bike to turn into a single speed. The bike was unrideable.
Simon, who is a coach at D3 MultiSport, lugged his bike the now exceeding familiar half-mile back to the transition area and spent the next hour trying to find a bike. Perhaps a demo bike? No help.  At last, the manager of construction for the race reported that he had a bike in his yard.  Simon, at 6'2" tall, looked his new friend eye to eye, decided that the bike might be the right size and accepted.  An hour later Simon met his savior at the very same spot where he broke down, wiped off the sawdust, and headed out for the 112 ride, 2.5 hours later after his derailleur decided to divorce itself from the rest of the bike.
Time passed. Simon pedaled along on the loaner bike, rolling into transition in second-to-last place.  After beginning the marathon, Simon says, "I tried to talk with every athlete I met on the run.  It was getting dark when I caught this woman, starting down the Energy Lab Road, where she fell on the curb into the grass and dirt. We got her up on her feet and we pressed on. Two years later at Eagleman triathlon, the woman saw Simon and reintroduced herself saying, "We had a great talk about running in the dark in Kona in the middle of the night."
For someone who almost always wins his age group, Simon found the tail end of the race as unfamiliar territory.  He says, "The memory is very, very fresh in my mind.  It's the feeling that I somehow didn't give up.  There's no race that compares to it." 
Simon has raced more than 150 triathlons.
 --
Audrey and Brittney Murray are identical twins (and my nieces).  Audrey is a talent coordinator for an IT company.  Brittney is just graduating law school at Santa Clara University.  They wanted to run a marathon before their 25th birthday, but time was running out.  COVID-19 caused serial postponements of the race they had signed up for, the inaugural Boulderthon, and after 15 months of delay, their birthday was looming.  Rather than wait for a real race, Audrey and Brittney decided that they would just do their own marathon.
They found their way from San Francisco to Tucson, all trained up as they had been ready to go until the last-minute postponement of the formal race, which was cancelled for that very weekend.  In Tucson, they planned out a 26.2-mile course with Margie Williams, their aunt.  The next morning early, we took an AltRed tablet then set out early, before the roaring heat set in (they are from San Francisco, after all, where anything above 57 degrees is an inferno). Margie sagged on the bike, carrying water, various sports nutrition, magic anti-cramping medicine and torpedoes of AltRed.
Every mile or two Margie would set up a bit of an aid station and we would roll in, grab what we needed and carry on.  All was well on a nice, sunny Tuesday morning on the Loop in Tucson.
At about mile 18 things began to happen. Audrey and Brittney reported blisters on their toes. They were getting a little thirstier between sips, as the sun was up and the thermometer was skyrocketing (relatively speaking).  Audrey was cruising as smooth as pudding at mile 23.5, when a cramp struck, not exactly like an Arizona rattlesnake, but pretty hard.  Margie tended with the magic cramp medicine, which helped a little but the cramp stuck like a limpet.  At mile 25, Brittney's Lake Superior-sized foot blister popped, causing her to pause and collect herself.   
Margie rode on ahead to the estimated finish line, where a construction crew was replacing a water main in the road.  She explained to the crew that these two young runners were completing their first marathon and organized this group of fellows in their day-glo vests and hard hats into the finish line cheering section. 
Audrey and Brittney rolled in, relying on their Apple watches for confirmation of their full 26.2.  My Garmin Forerunner said we were done, and I was glad of it.  However, Apple said another 0.3 miles, so we did the extra bit.  (Garmin and Strava agree, we did extra credit). 
Later that day, Audrey and Brittney, cooing over their roasted feet and sore legs, wondered why anyone would do this.  But the next evening at dinner with friends, the stories emerged.  How Audrey got hit as if by lighting with the cramp in her adductor muscle, and how Brittney nearly retched when the blister popped. And just how long 26 miles is.  And how abjectly cruel Apple is for making them run an extra 0.3. 
They didn't mention the vermilion flycatchers and roadrunner they saw or how strong and fluid and just floaty they ran for the first 14 or 15,or how cool and tasty the air was in the pre-dawn Sonoran Desert or how Margie recruited the finish line cheering section.  Nope. Their stories centered on the catastrophes and comebacks, the little trials and little triumphs. 
After a little time passes, the memories of those challenges and train wrecks begin to change and transform.  The recall of the pain passes.  The memories sweeten and the images become more vivid and colorful and, well, memorable.
Knowing this will help you push through, keep going, persevere, carry forth.  You have the surety that, given a couple days, you will have something to talk about. So just tell yourself, when things get sketchy and you wonder why you ever got into this, "This is going to make for a great story."
Seneca would have recognized these stories in a heartbeat.
--
Will Murray is the mental skills coach for www.D3multisport.com and a USA Triathlon-certified coach.  He is co-author, with Craig Howie of The Four Pillars of Triathlon: Vital Mental Conditioning for Endurance Athletes and author of Uncle: How to Become the World's Greatest Aunt or Uncle.