Biking The Blue Ridge Parkway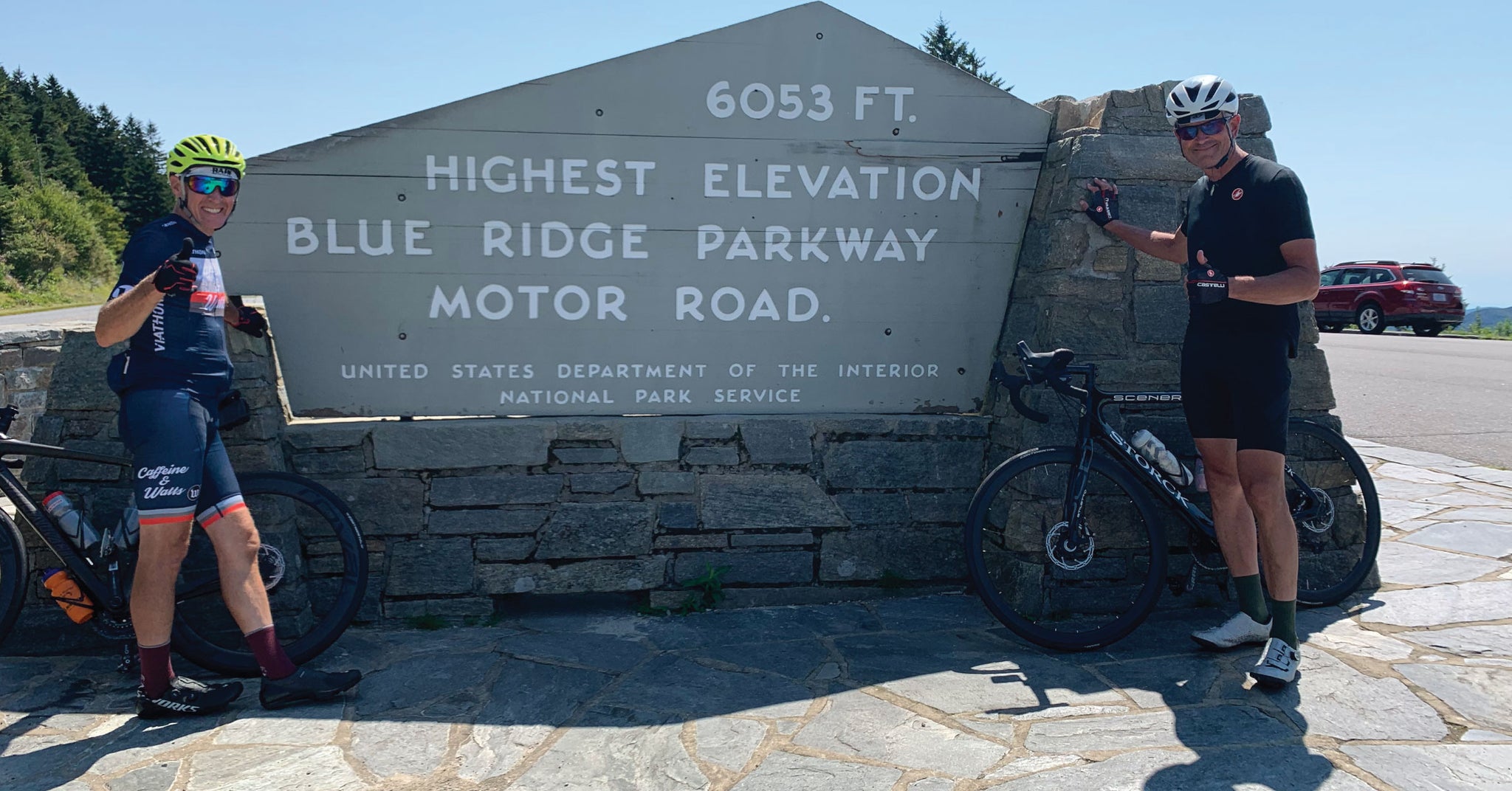 The Highest Point on the Blue Ridge Parkway
Photo by Jacki Cronin
In early September I had the opportunity to ride 500 miles of the beautiful Blue Ridge. 2020 has been different in so many ways with events canceled and spending  time at home for the first time since starting with SUR four years ago. So when I was invited to join Jeff Van Drunen, the founder of Sur PhytoPerformance, and his small group of friends on this bucket list adventure, I jumped at the opportunity.
The Group
Photo from Jacki

Yates
The Blue Ridge Parkway extends 469 miles from Waynesboro, VA to Cherokee, NC along the spine of the Blue Ridge which is a part of the Appalachian Mountains. The parkway has been the most visited unit of the National Park System almost every year.
Map of the Blue Ridge Parkway with Elevation
Photo from Jacki

Yates
Here's what my 35 hours of riding over 7 days breaks down to on Strava! About half the days we were able to ride to and from the hotel, and on Day 6 everyone in the group went for the extra 8 miles round trip to the top of Mt. Mitchel which is the highest point east of the Mississippi River sitting at 6,684 feet.
DAY 1: 98 miles, 9,436ft. gain
DAY 2: 68 miles, 6,211ft. gain
DAY 3: 40 miles, 3,619ft. gain
DAY 4: 93 miles, 9,177ft. gain
DAY 5: Rest Day
DAY 6: 104 miles, 11,151ft gain
DAY 7: 92 miles, 10,423ft gain
Over the past 12 months I haven't even come close to riding this much in any one month let alone in just seven days!! I was pretty nervous about being able to complete the week, but all we had to do was ride and eat. Our trip was expertly planned and executed by Ally Murphy, who spent years racing professionally, and her husband, John, who has over 15 years of professional race experience  and currently rides for Rally UHC cycling. Our mechanic & sag driver for the week, Casey Magner, has worked on professional race teams for years as well. To say we were in good hands would be a huge understatement. These three know what it's like to be taken care of so that you can be the best athlete possible and it showed. As Casey put it, we got to live like pros for the week! 
Not only did Ally absolutely kill it in the planning department, but she pre-made over 100 frozen burritos for us. Each morning with breakfast we had fresh made smoothies waiting for us, and when we arrived at the next hotel every evening there were snacks in our rooms & a delicious recovery drink waiting in our mini fridge. Casey drove the parkway with us while we rode and stopped every few hours so we could fill up on drinks & the most delicious mid-ride burritos I'd ever eaten each day.
Due to the parkway ranging from 650 to 6000ft in elevation, the weather can be unpredictable and change quickly. Having lived outside Asheville, NC for almost two years and seen rain just about every afternoon for the last 3 months, I was prepared for a lot of long rainy rides. The first two days in Virginia we rode in pretty heavy fog, but after that it cleared up and we had some of the most incredible weather for riding. Seven days and not a single drop of rain, not too hot, not too cold, it was amazing. Our group was out there riding anywhere from 6-10 hours a day so although we were prepared, bad weather would have quickly turned a tough week into an even tougher week.
Amy and Jeff Van Drunen embracing the challenge
Photo by Jacki

Yates
After returning home nearly half the group claims to have put on almost 5 pounds which is a true testament to how well we were fed! It's really really difficult to eat enough to balance out the calories burned while riding 35-40 hours in a week. Between eating non-stop, taking two AltRed every hour while riding, and staying well hydrated I was able to do not only the biggest back to back rides I've ever done, but also feel WAY better than I anticipated. It was an absolutely incredible week and thanks to all the help we had along the way, each and every one of us was able to complete something that might not have been possible otherwise.
Jacki and Sam all smiles on the Parkway
Photo by Jacki Yates