BTS: Downhill World Cup Mechanic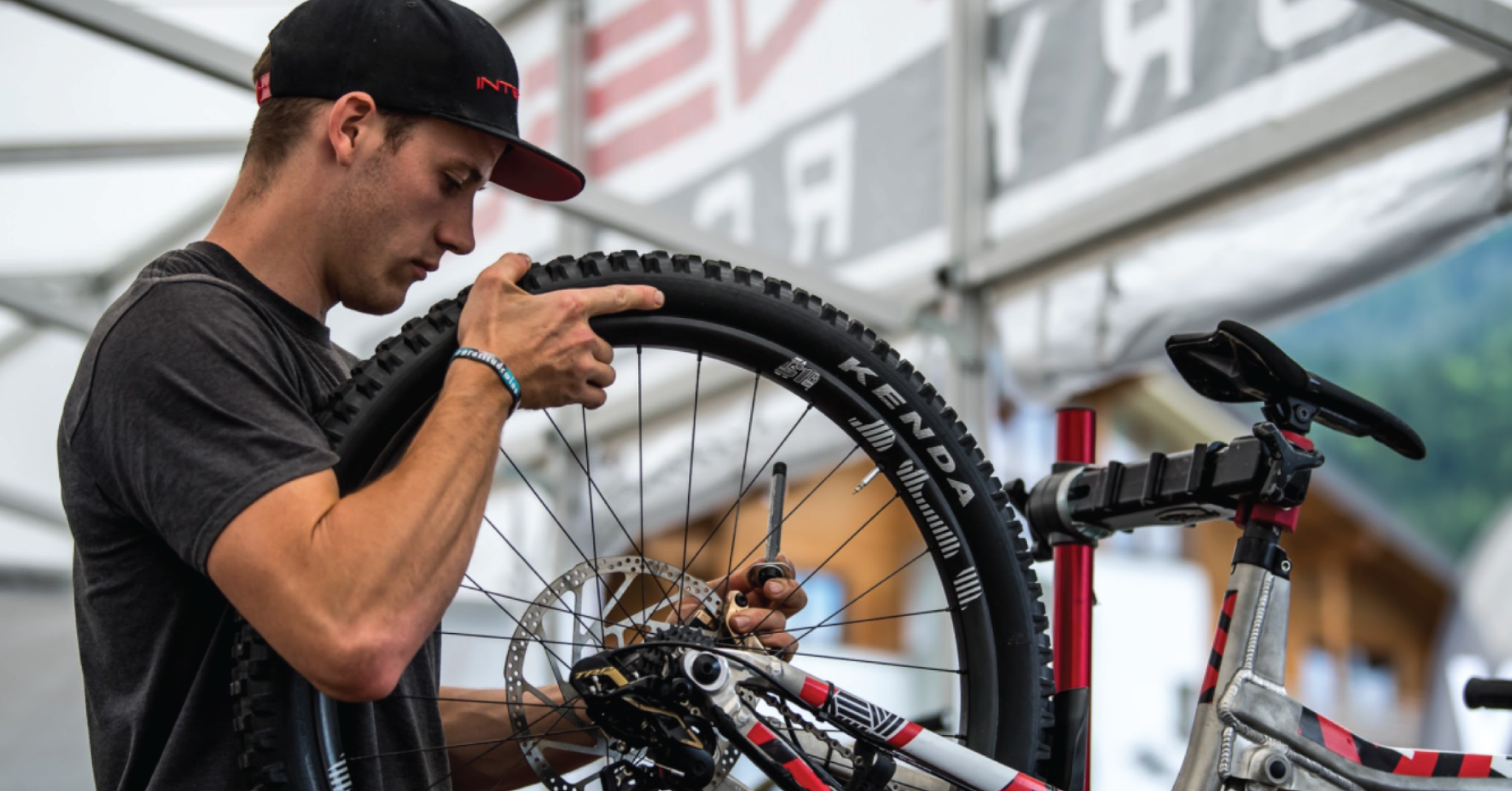 Sam Yates working on a bike
Photo by @nathanhugesphoto
The media is full of stories and posts about what the amazing things athletes, who we admire, are doing. You see the glamorous and the sometimes the not so glamorous parts of racing at a professional level. With social media these days, many athletes are pretty open with their day to day lives. Training, racing, what they do for fun, who they hang out with, what they eat, you know… things like that. Anyone who wants, can have the pleasure of following along and feeling like they are almost a participant in their favorite athlete's life.
But what you don't usually see very much of is the team behind every great athlete.  That's where I fit in. One of those classic stories of dreaming about being a racer as a kid, but quickly realizing that throwing myself successfully down a hill fastest was not in my skill set. With this realization,  my dreams shifted to the people behind the racers who literally kept the wheels turning everyday. With a lot of perseverance I found myself in that exact position. This will be my 4th year working as a world cup mechanic and my third year working with Neko Mulally as part of the Intense Factory Race team.
Specifically my years have been spent in the discipline of Downhill mountain biking . We may not be an  Olympic sport, or on TV, but don't let that fool you into thinking we are any less serious of a profession. Our season includes the UCI World Championships, the UCI World Cup circuit, the USA Cycling Mountain Bike National Championships and the USA Cycling National Downhill Series. Plus a few Enduro races thrown in here and there.
My job is, first and foremost, to make sure that the bike and rider gets down with zero mechanical issues every run (barring any crashes or flat tires) and role number 2 is to work with the rider to make that bike as fast as we can for that course.  
In a sport like Downhill there is a lot more that goes into bike prep than you might think. There's very little "set and forget" going on like you might see on a road or TT bike. We are playing around with angels, lengths, suspension tunes, experimenting with ways to reduce pedal kick back, or brake jack. Course and weather also adds to the many decisions we make each weekend- which tire to run from a choice of 5 and whether we cut them, how we cut them, inside knob or outside, flat or angled cuts, sniped for compliance, and this list goes on. But with 516 knobs per tire and up to 7 or 8 tires per race weekend, my hands get a good workout snipping knobs. Why do we do all this? The smallest changes make all the difference when races in downhill are won by hundredths of a second.
Seven World cups and World champs make the bulk of our season with smaller US based races scattered in there to keep the riders sharp. Sounds like a lot? Well with just 7-8 practice runs, 1 qualifier, and one race run, every moment on course counts in a given weekend. Unlike road racing where you have multiple stages and 6 hr races, we are totaling no more than 50-60mins of bike time for the whole race weekend. So we need to get up to speed quickly with no wasted runs. A loose brake or a tire that loses pressure can waste a whole run, putting that rider at a disadvantage straight away. From our offseason work we usually have settings for different track types e.g.- rocky, fast, wet or steep tracks which gives us a good starting point.
Being dialed in to what the other person is thinking can help make races flow and increase how effective we are together. Neko and I are one of the few rider/mechanic pairings who work together all year. We live 10 minutes apart (Neko is actually how I ended up living in the USA and meeting my wife, cheers for that one). When we are not away racing there's always work to be done with lots of time spent in the gym, testing with sponsors, shuttling, and getting time on the downhill bike.
Neko and I differ even more in that we live so close. At home my job role changes from just a race mechanic with a team around to do everything so we can focus on just our job, into almost a training partner trying to make his life as easy as possible so he can focus on training and recovery while I'm working on bikes during the week. While driving shuttles we're chatting about what setups and ideas to test next on the bike or ways to make it faster. Being in tune means we can race better with less said between us. Warm-ups flow like a dance, having rehearsed it so many times, bike changes and setups are just a double check on what I've set, rather than asking him all the time. 
Even with all this time spent testing, preparing, cleaning, greasing, talking and pondering, racing doesn't always go the way we have in our heads. It's not the highlight reels and pictures the riders and teams put up for you to see. Sometimes we turn up and don't qualify. Some days there are crashes that can end seasons, and sometimes the tire gods are looking away and a flat destroys all hopes in a second. But no matter what we always look back for the positives and move on to the next week. 
Helping someone achieve their dreams and goals is why I'm here no matter the result. We are still just riding bikes around the world in awesome places. And hopefully in 10yrs I'll still be doing this; the team will change, and the riders will be different, but the endless hours behind the scenes to make the world's fastest riders will not.
Sam Yates hangs out next to Neko Mullaly as he warms up for a race Photo by @nathanhugesphoto
Downhill racer Neko Mullaly at a World Cup Race Photo by @nathanhugesphoto